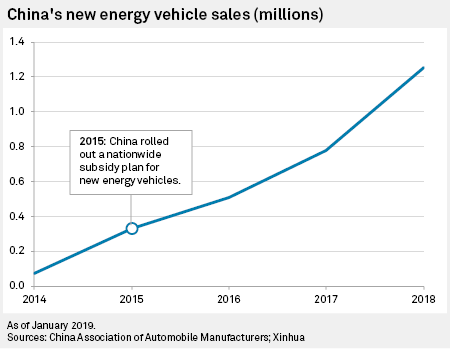 In this briefing:
---
The highlights for December are as follows:
The labour shortage at the Nevada plant is said to be under control. Thus, delays in supply do not seem to be a concern.
A partnership with Tropos should strengthen the software side of Panasonic's business. Motors. Panasonic's software platform, OneConnect, to be used in Tropos manufactured EVs designed for use in last-mile applications and emergency.
Efforts by the company to improve its battery business and adopt CASE related technologies (as highlighted in our previous monthlies) are likely to bring in growth only over the medium term. For the upcoming quarter, consensus and our estimates are for a decline in revenue and OP given the unfavourable market conditions and struggle in battery business through last year.
There will be no further cut in subsidy in China for NEVs. With the subsidy staying intact, demand for NEVs is likely to improve (or at least not decline further) suggesting better market conditions for battery players globally (who invested in China despite the country's slowdown last year).
CATL was quiet last month, although there was news about the company being a possible buyer of the US luxury car brand-Aston Martin. This seems more likely to be merely a rumour and we feel that CATL does not seem to have strong synergies to do so.
South Korean players had no major battery highlights last month.
CATL's share price continued to rise last month, followed by Panasonic, both outperforming the market. The Korean players and BYD continued to see relatively weak performance during the month.
You are currently reading Executive Summaries of Smartkarma Insights.
Want to read on? Explore our tailored Smartkarma Solutions.