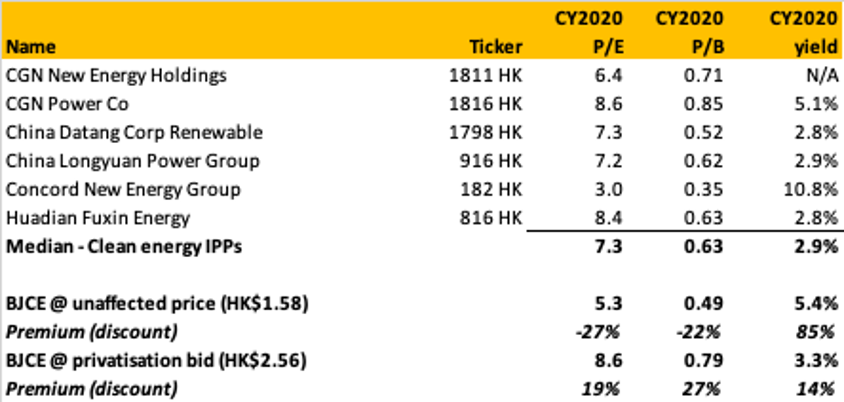 In this briefing:
---
Beijing Jingneng Clean Energy (579 HK)/BJCE is the largest gas-fired heat and power supplier in Beijing and the leading wind power operator in China. On 6 July, it announced a possible privatisation bid from Beijing Energy Holding through a conditional voluntary cash general offer. Beijing Energy Holding and concert parties have a combined 71.40% stake (100% of domestic shares and 16.7% of H-shares). This potential privatisation joins a list of recent SOE privatisations of clean energy companies – Huadian Fuxin Energy Corp (816 HK),  Huaneng Renewables Corp H (958 HK) and CP Clean Energy and the potential privatisation of CGN New Energy Holdings (1811 HK).
Beijing Jingneng Clean Energy (579 HK), an SOE utility, was suspended Friday morning pursuant to the Code on Takeovers and Mergers. Should an Offer be tabled, this would be the fourth Hong Kong-listed, clean-energy company subject to a privatisation or change of control in a little over a year – and sixth in which interested parties have been circling:
We revise up our target price to Bt45.4 (from previous Bt44.6)  incorporating the contribution of Bt0.9/sh from new investment in INTUCH. Our valuation is derived from sum-of-the-parts (SOTP) methodology, implying a 78x PE'21.
Story:
Positive view on GULF's investment in INTUCH considering the short term value accretive investment strategy.
Upside of 0.9/sh from acquisition of 4.6% stake in INTUCH.
China Gas Holdings (384 HK) reported a marginally behind result with a 11.7% increase in reported profit to HK$9.19bn, primarily due to the negative impact of the COVID-19 on gas sales growth. Full-year DPS of HK$0.50 represents a 27.6% payout ratio.
In terms of outlook, the company guided for good gas volume recovery in Apr-Jun, expansion of dollar margin, improvement in receivable recovery and LPG micro pipeline network as key initiative in FY20/21. However, our concerns are continued high gearing, downtrend on connection fees, possibly slow receivable recovery and uncertainties on LPG micro pipeline.
Despite undemanding valuations (12x PER and 3.3x P/B), we still prefer our top two picks as analysed in China Infrastructure Deep Dive: Gas Utilities H & A Shares – ENN Energy (2688 HK) and China Resources Gas (1193 HK). 
You are currently reading Executive Summaries of Smartkarma Insights.
Want to read on? Explore our tailored Smartkarma Solutions.