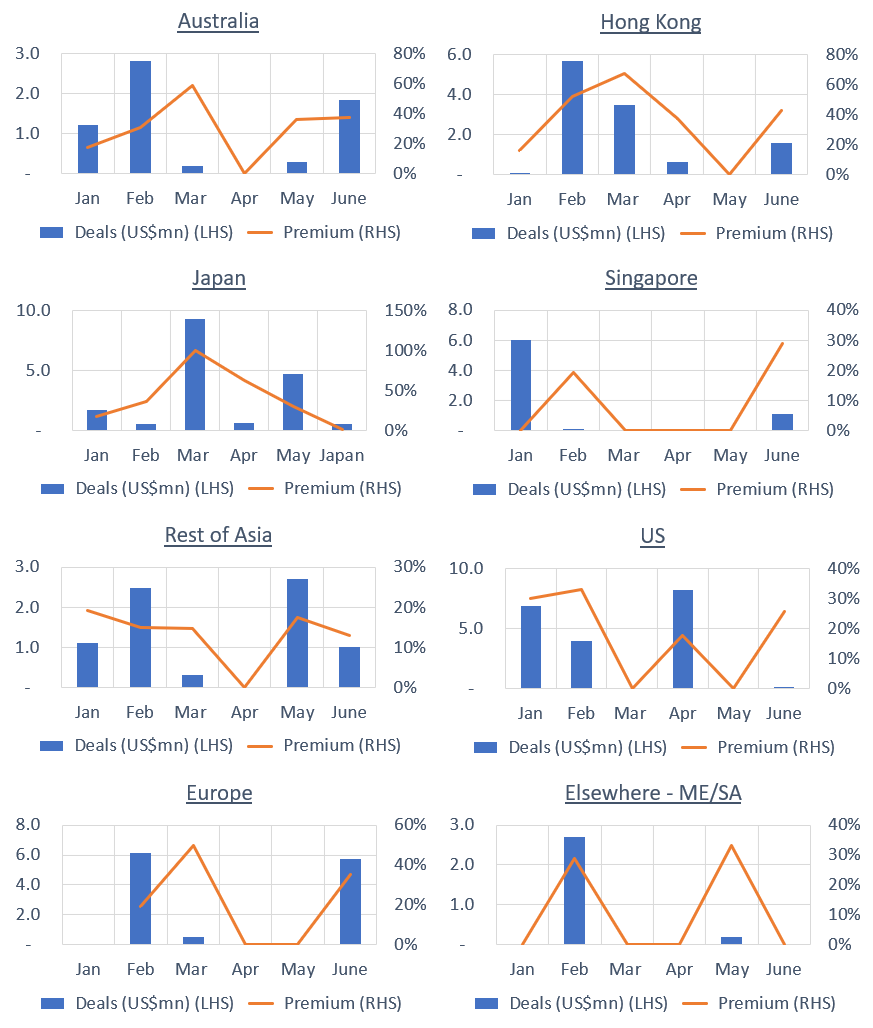 In this briefing:
---
For the month of June, 20 new deals were discussed on Smartkarma with an overall announced deal size of ~US$12bn.
Clicking on the company name in the table below will take you to the entity page where you can read the initial insight(s) written by Smartkarma contributors on these new deals and follow up discussions, or simply click on the insight link(s) below the name.
Because Indian delisting offers are what they are, Adani and Hexaware have no offer premium. They will be reverse book builds. Adani "price" of INR 33.82 is the floor price. It is a legal minimum which must be declared. It is not the price of the offer and nobody expects it there.
The average premium for the new deals announced in June was ~33% and the YTD average premium for all deals discussed on Smartkarma is 32%.  The average for all deals discussed on Smartkarma in 2019 (145 deals all-in) was 31.5%.
---
The charts below provide some colour of deals YTD discussed on Smartkarma.
---
Brief Summary of News in June of Arb Situations On Smartkarma's Radar
(Again, click on the company names to take to you to the insights and/or discussion posts for a more comprehensive read-through on each situation. Where a new insight was written on these names in June, I've included a link, in bold, to that insight in italics.)
Comments (with links to announcements & insights)

29 June: An update to say there is

no update

.

16 June: In its monthly announcement in compliance with the Takeovers Code, Haier said the Offeror continues to explore a privatisation proposal.:

18 June: Leyou has announced the "Potential Buyer" has commenced due diligence and "are in the course of discussing possible deal structures in respect of the New Possible Share Disposal":

12 June. Deal approved. Shares have ceased trading

16 June: The Scheme is

approved

. Timetable remains unchanged. Wharf and WREIC shares despatched on the 22 Jul, and first day of trading on the 23 Jul. Cheques to be despatched on the 3 August. 
| | |
| --- | --- |
| | Comments (with links to insights) |
| | No June update…. Waiting….. Waiting…. Waiting…. |
Comments (with links to announcements)

3 June: Tthe SC has

declined

TA Enterprise (the Offeror)'s application to withdraw:
| | |
| --- | --- |
| | Comments (with links to announcements and insights) |
| | |
| | 8 June: A shareholders meeting to vote on the litigation will be held on the 10 July. |
24 June: KKR's Tender Offer

closed

at noon. KKR acquired 11.9% Pro-ration is 100%.
| | |
| --- | --- |
| | Comments (with links to insights) |
| | No June update |
| | |
11 June: Taiwan Fair Trade Commission has

asked

for public submissions in their review of the Qisda deal for Alpha. Submission deadline is the 16th. 

23 June:

Qisda Corp (2352 TT)

announced that the deal for Alpha was extended to 23 July 2020 3:30pm. Still waiting on word whether the Tender Offer will be lowered by TWD 0.44 to account for the dividend which is expected but for which there is no record date.

No June update
| | |
| --- | --- |
| | Comments (with links to announcements and insights) |
| | |
| | |
| | |
We revise up our target price to Bt45.4 (from previous Bt44.6)  incorporating the contribution of Bt0.9/sh from new investment in INTUCH. Our valuation is derived from sum-of-the-parts (SOTP) methodology, implying a 78x PE'21.
Story:
Positive view on GULF's investment in INTUCH considering the short term value accretive investment strategy.
Upside of 0.9/sh from acquisition of 4.6% stake in INTUCH.
China Gas Holdings (384 HK) reported a marginally behind result with a 11.7% increase in reported profit to HK$9.19bn, primarily due to the negative impact of the COVID-19 on gas sales growth. Full-year DPS of HK$0.50 represents a 27.6% payout ratio.
In terms of outlook, the company guided for good gas volume recovery in Apr-Jun, expansion of dollar margin, improvement in receivable recovery and LPG micro pipeline network as key initiative in FY20/21. However, our concerns are continued high gearing, downtrend on connection fees, possibly slow receivable recovery and uncertainties on LPG micro pipeline.
Despite undemanding valuations (12x PER and 3.3x P/B), we still prefer our top two picks as analysed in China Infrastructure Deep Dive: Gas Utilities H & A Shares – ENN Energy (2688 HK) and China Resources Gas (1193 HK). 
You are currently reading Executive Summaries of Smartkarma Insights.
Want to read on? Explore our tailored Smartkarma Solutions.