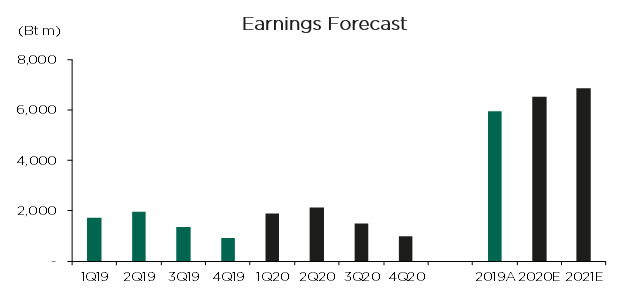 In this briefing:
---
Yesterday analyst meeting came out in a neutral tone. Expect 2020E earnings to remain healthy backed by profit contribution from newly COD projects in 2019.
Expect 1Q20 earnings to improve both YoY and QoQ, given the profit recognition from 290MW capacity expansion in 2019. 
Positive Long term (2020-21) earnings outlook backed by COD 782 MWe projects in pipeline, representing 11% expansion by 2022.
Estimate 7% CAGR EPS growth in 2020-22E.
The share has fallen 17% since early 2020 due to the negative sentiments of expected economic slowdown from COVID-19 spread. We believe this should be a short-term impact and recommend to accumulate the stock for 12-month period.
We maintain the BUY rating with a target price of Bt74.5 is based on sum-of-the-parts (SOTP) methodology, implying 16.6xPE'20E or 0.71x relative PE to Thai utility sector.
You are currently reading Executive Summaries of Smartkarma Insights.
Want to read on? Explore our tailored Smartkarma Solutions.