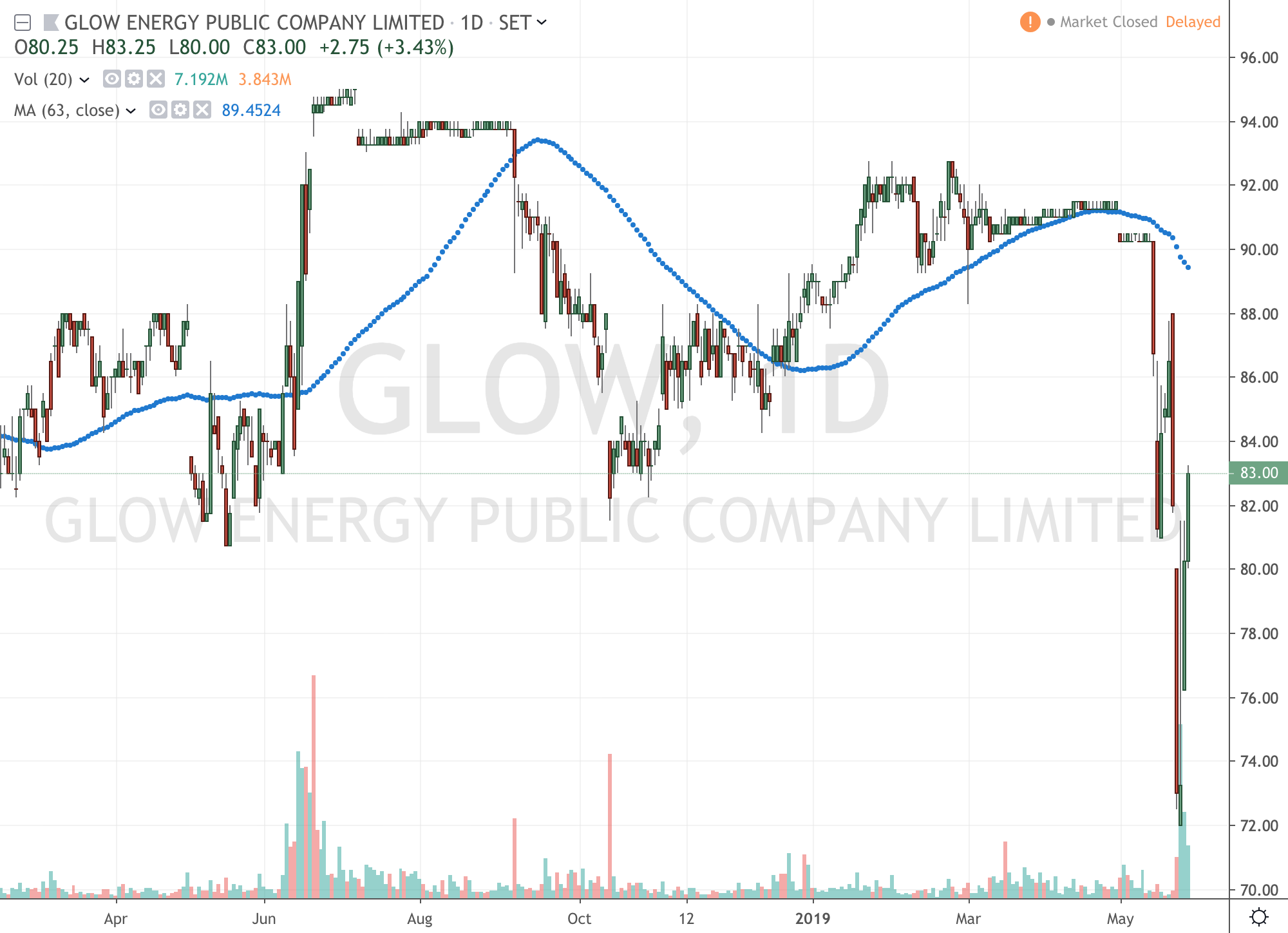 In this briefing:
---
David Blennerhassett has written about Glow Energy Pcl (GLOW TB) several times as since September last year. Links to the insights in the history of the situation of Global Power Synergy Company Ltd (GPSC TB) purchasing a majority then super-majority stake in Glow Energy (and the Quiddity Thailand M&A Guide 2019 he authored are below.
Earlier today, David published an insight discussing the possibility of an Imminent Delisting Offer. It was, as is David's wont, very helpful in showing precedent and the rules to help investors decide how to deal with this situation. 
I thought it worthwhile to go one step further.
There is a trade here.
Glow Energy Pcl (GLOW TB) popped 9.56% yesterday on (relatively) decent volume.
The share price increase appears to be in response to media reports that Global Power Synergy Company Ltd (GPSC TB) will conduct a Delisting Offer for the remaining 4.75% of shares not owned, which would likely be done at the most recent Offer Price of Bt91.99/share.
To recap, GPSC launched a tender offer at Bt91.9906/share for an Offer period of 35 business days (25 March to 17 May) resulting in 26.14% of shares out tendering. Together with GPSC's 69.11% stake acquired from Engie SA (ENGI FP), that gave it 95.25% of GLOW shares out.
In the tender offer doc (Form 247-4), GPSC said that if it held more than 80% of GLOW at the close of the offer (section 2.1 of page 38 of the PDF), it "has a plan to delist the securities of the Business from the SET within the period of 12 months after the end of the Offer period".
That plan may occur sooner rather than later.
---
The Quiddity Thailand M&A Guide 2019 is now published with guidelines to pointers and the relevant rules, regulations, and documentation regarding the Thailand M&A landscape. Others in the series to date are Hong Kong, Japan, Australia, Singapore and Malaysia. Watch for more soon!
Xinyi Energy's IPO was priced near the low end and started trading today. We have highlighted in our earlier note that investors in Xinyi Energy acquired solar farm assets from its parent at premia to the market value of solar farms, and deal implies a low WACC thanks to the long term contract with the national grid. In this insight, we will summarize the allotment results and re-iterate our view on valuation.
---
Get Straight to the Source on Smartkarma
Smartkarma supports the world's leading investors with high-quality, timely, and actionable Insights. Subscribe now for unlimited access, or request a demo below.