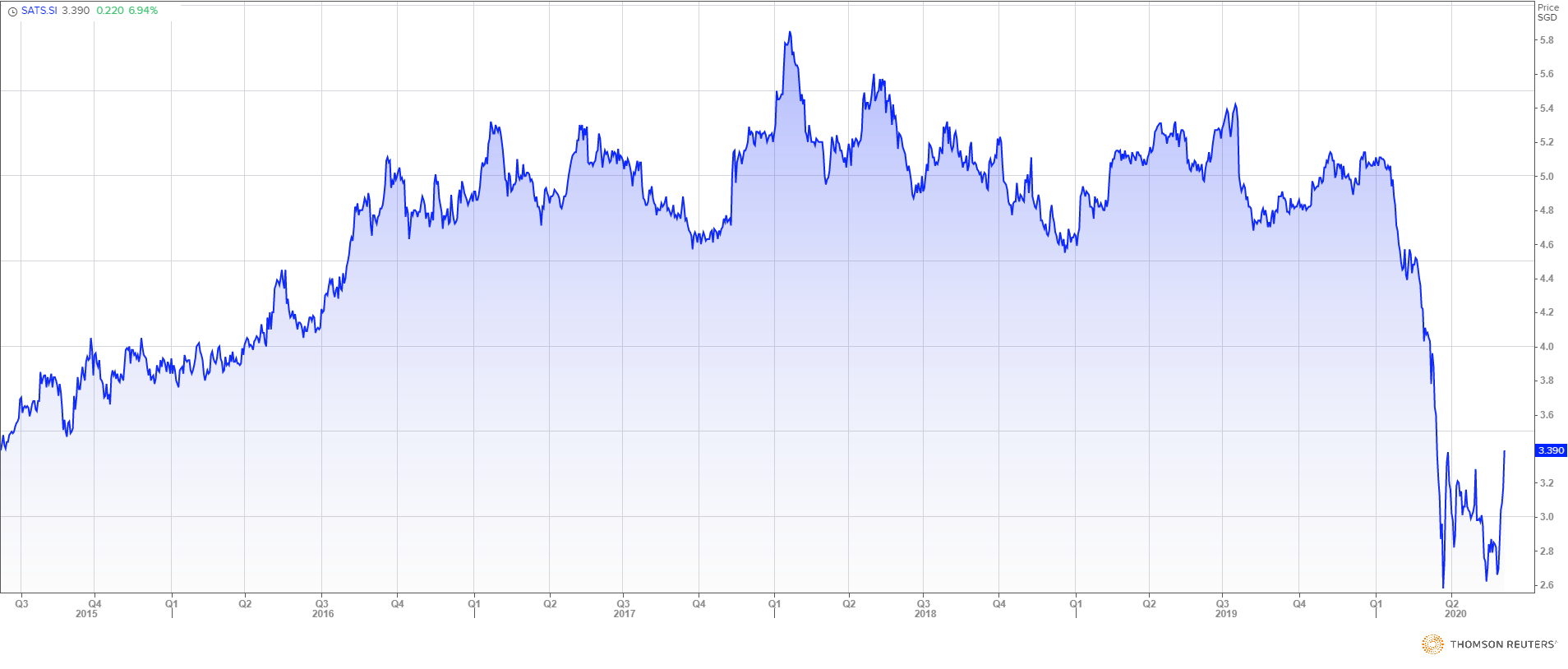 In this briefing:
---
SATS Ltd (SATS SP) is a Singapore travel monopoly that has rarely been cheap given its great dividend track record. SATS controls 80% of flight service operations around Changi Airport, one of the top-20 airports in the world. Its most important client Singapore Airlines (SIA SP) has been saved by Temasek and retail shareholders.
According to IATA data Changi flight operations were down -99.5% in April. We expect the same in May. June will see some improvement with travel lines re-opening between China/SG and Singapore Airlines (SIA SP) starting more routes globally next week.
While we continue to wait for FY20 earnings (FY ends 31/3/20) all bad news might be priced in already. With Singapore elections approaching in July and pressure from other global capitals which are re-opening, Singapore can't afford to have its air-links closed for much longer. Things are set to get incrementally better from here, not worse.
Timing a bottom is always difficult but risk/reward on a long-term basis could be attractive even after a 25% rally from the recent 2.6 SGD low in the past ten days. Read below for more details.
This past week's offering of Insights across [email protected] is filled with another eclectic mix of differentiated, substantive and actionable insights from across South East Asia and includes macro, top-down and thematic pieces, as well as actionable equity bottom-up and credit insights.
Please find a brief summary below, with a fuller write up in the detailed section. We also include in the detailed section the past week's relevant discussions in [email protected]
Macro Insights
In Mid-Year Thai Strategy Review 2020: Focus on Recovery Plays, our Thai guru Athaporn Arayasantiparb, CFA lays out his thoughts and recommendations for 2H2020 in Thailand. 
Equity Bottom-Up  Insights
In Telekomunikasi Indonesia (TLKM IJ) – Nurturing the New Economy, CrossASEAN Insight Provider Angus Mackintosh revisits Indonesia's largest telco and finds it making significant strides into the digital economy. 
In Valuetronics (VALUE SP): Cash Is an Important Asset + Expansion in Vietnam Continues, CrossASEAN Insight Provider Nicolas Van Broekhoven revisits this electronics player and although valuations look cheap, it faces headwinds from its predominantly Chinese production together with a large market focus on the USA. 
In Comfort Delgro (CD): Back-To-Office (BTO), CrossASEAN Insight Provider Henry Soediarko circles back to this Singapore taxi operator in light of a lifting of the circuit breaker in the near future.
In BDO Unibank – Is A Capital Raise Next?,Thomas J. Monaco zeros in on Philippine bank BDO Unibank Inc (BDO PM) after the announcement of a special loan loss provision. 
In Singapore Air – The Rights Distribution – Vol Is Your Friend,Travis Lundy revisits Singapore Airlines (SIA SP) post its rights issue. 
In Singapore Air – Aftermath of the Rights,Travis Lundy takes a step back and reviews the potential post-rights positioning for Singapore Airlines (SIA SP).
In VGI: Most Solid Player in Media Sector, our friends at Country Group revisit VGI PCL (VGI TB) having attended the analyst meeting on 2nd June, where they came back with a neutral tone. 
In GULF: Fastest Growing Utility Player in Thailand,Country Group initiate coverage of Gulf Energy Development Public Company (GULF TB) with a BUY rating, based on a 2021E target price of Bt44.6, derived from a sum-of-the-parts (SOTP) methodology.
In Singapore Press Reach for SGD1.18, technical analysis specialist Thomas Schroeder works his magic on Singapore Press Holdings (SPH SP) and takes a bearish view on the removal from the Index the company created.
Sector and Thematic Insights
In Singapore REITs – New Rental Relief Framework for SMEs,Sumeet Singh revisits the Singapore REITs sector post the announcement of rental relief for SMEs by the Government. 
In STI Index Review – And Ironic It Is!,Brian Freitas comments the review of the FTSE Straits Times Index (STI) (STI INDEX) which took place last week. 
In KLCI Index Review – Liquidity Play,Brian Freitas comments on the recent changes to the Kuala Lumpur Composite Index (KLCI) (FBMKLCI INDEX).
In Singapore STI Laggard Play, technical analysis specialist Thomas Schroeder comments on Singapore's ST Index and sees it as an attractive laggard. 
Credit Insights
In Olam International: Cocoa Against COVID, Credit specialist Warut Promboon initiates coverage on Singapore-based commodity player Olam International (OLAM SP), as management shifts to more value-added businesses and processes. 
In OUE Ltd. – Bonds Not Joining the Party, Credit Specialist Lakshmi Iyer, CFA takes a look at this Singapore property company's 2023 bonds. 
Economic Prosperity Network (EPN) is a recent terminology that will likely gain more prominence in the coming months and years, especially as it relates to the strategic importance of how South Korea aligns itself between the two global superpowers – the United States and China. 
EPN refers to an initiative started by the United States to diversify global supply chains away from China. The EPN is a clear contrast to China's "Belt & Road Initiative," which has tried to bring China, other parts of Asia, Europe, and the Middle East closer together to eventually better serve China's long term strategic interests.
Unlike his predecessors including President Park Geun-Hye and Lee Myung-Bak who had very pro-U.S. foreign policies, President Moon has been "sitting on the fence" with regards to trying to not upset either China or the United States. In fact, one could make a strong case that in the past three years, President Moon has been a lot more pro-China than his two previous predecessors. Given this precedent, it is highly unlikely for President Moon to order the South Korean government to join the EPN, in our view. The more likely scenario is for President Moon to try to postpone any kind of formal decision to join the EPN.
For every Asia-headquartered bank bond that widened during the week, eight tightened. Risk-on sentiment rose in Asia's high yield market with option adjusted spreads tightening by almost as much as the US market over the last week. The end-of-the week surprise in US non-farm payroll numbers with a rise in employment during May, as opposed to another large decline, may drive Asia HY risk sentiment as this week opens.
Senior unsecured bank debt continued to outperform in this week's return to risk-on environment, although each class of bank securities tightened week-on-week. Inherently volatile bonds of India-headquartered finance companies retained their high beta nature by outperforming this week, following last week's underperformance. Meanwhile, newly improved risk sentiment in Thailand and Vietnam continued to be rewarded in bank bonds that had underperformed so far this year. At the same time, capital inflows into emerging market economies rose as investors' EM risk perceptions declined.
Hong Kong inter-bank rates retraced recent rises. We expect a negative Q2 result impact on banks with less attractive deposit franchises although banks with valuable deposit franchises should benefit from this recent volatility. Concurrently, US$ Libor continued to flatten, although a rise in three-month Treasury rates suggests that net interest margin compression should be arrested. For three weeks in a row, three-month US LIBOR rates fell by only 2bps week-on-week. Nonetheless, LIBOR rates are down 113bps since the end of Q1. Combined with lower credit growth, this could lead to lower quarterly-sequential net interest revenue for many banks.
Moody's downgrade of India and the subsequent downgrade of India-headquartered banks had low-to-no impact on investor risk sentiment regarding these assets, as this move was price-in weeks ago. In fact, the limited downgrade amount may have contributed to the risk-on sentiment for India-headquartered bank assets.
Market Outlook: Improved sentiment as coronavirus contagion risks reduce are likely to continue to reprice credit risk tighter, although geo-political risks may prove disadvantageous. Senior unsecured may continue to be best positioned for continued defensive tightening. At the same time, our general preference would be non-Hong Kong centric risk assets, such as India-headquartered bank bonds.
 Inside: In this weekly, we review recent changes in bank bond spread moves over the last week, as well as LIBOR and HIBOR moves, to identify possible investment opportunities and potential pitfalls.
You are currently reading Executive Summaries of Smartkarma Insights.
Want to read on? Explore our tailored Smartkarma Solutions.