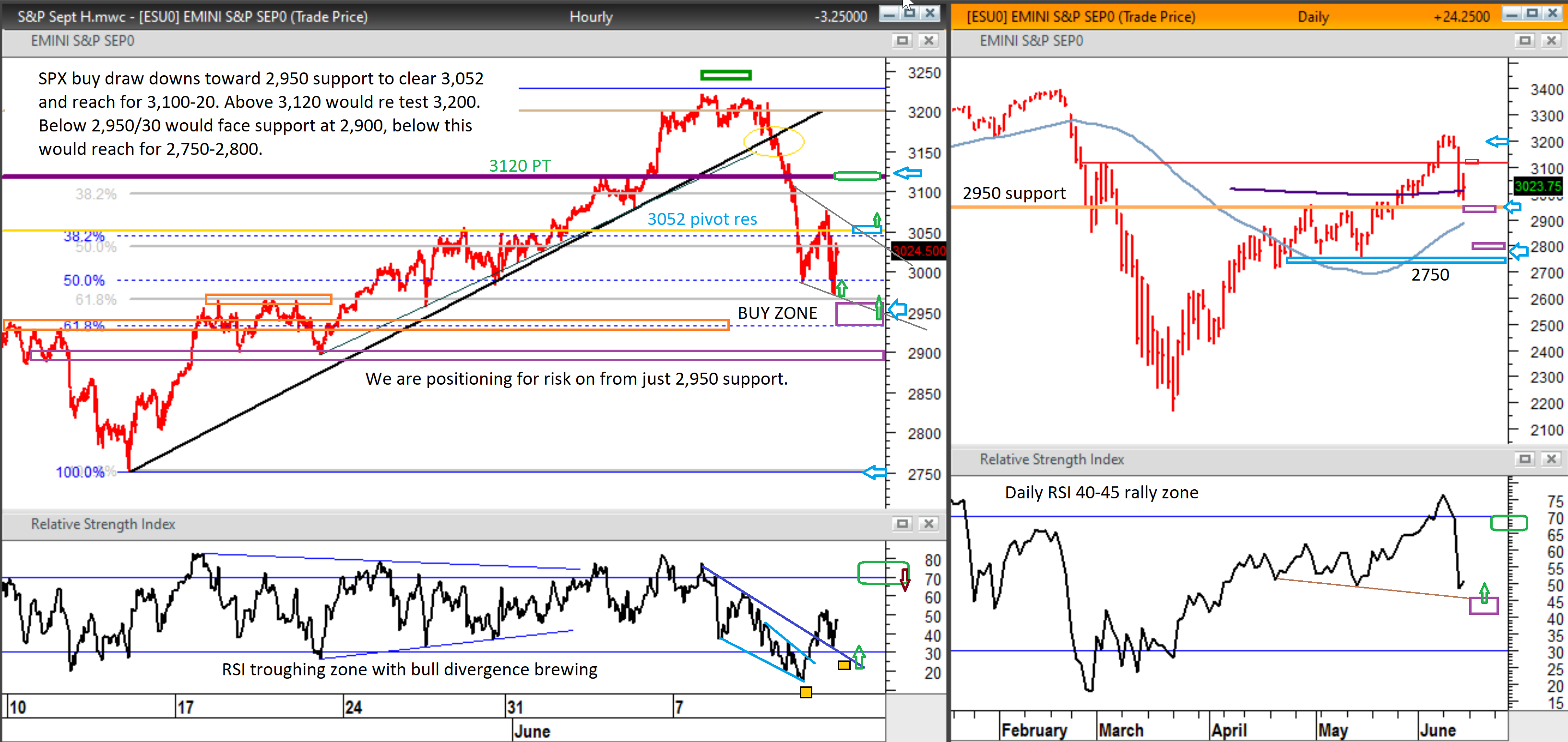 In this briefing:
---
S&P 500 (SPX INDEX) broke trendline inflection support at 3,165 that triggered a bear break and signal to put on short protection.
S&P 2,950 will define support and the risk on/off pivot this week.
Cycle – June 22/27 primary cycle turn timeline. If we are rallying into this cycle we expect a top (base case). If weak into this cycle, we set up a bottom. June is expected to form a topping cycle ahead of a more bearish late June/July corrective cycle that will set the stage for a recover into September.
Negative inputs stem from virus second waves, frothy valuations, demand risk, economic reality re set that sees the economic/market disconnect re coupling into July.
We are using a bounce to start selling/shorting rallies for a decline into July that sets the stage for an intermediate low and rise back to test the high zone in Q3. Resistance peaks in Asian indices and oversold USD levels also align with this cycle as does gold's bullish flat formation.
China News That Matters
How rich is China now?
Excavators sell well; trade still disappoints
One year on, Hong Kong braces for Beijing victory
UK reconsiders its China ties
So do the EU and NATO
In my weekly digest China News That Matters, I will give you selected summaries, sourced from a variety of local Chinese-language and international news outlets, and highlight why I think the news is significant. These posts are meant to neither be bullish nor bearish, but help you separate the signal from the noise.
This is a market that defines professional career and business risk. Should investors adopt a momentum approach or maintain caution in the face of valuation and macro risk?
There are no easy answers. The decision between an investment approach based on price momentum versus valuation and macro risk assessment depends on how the market narrative will develop over the next few months. As we progress into Q2 earnings season, will the market narrative and focus be healing, re-hiring, increased capital expenditures and low cost of capital, or an unexpected layer of costs to re-open, lower capacity and reduced demand, and continuing uncertainty?
During these unusual period of severe bifurcation between valuation and macro risk and price momentum, the investment professional is forced to make a decision based on what he believes the dominant investment regime will be in order to minimize career and business risk. This amounts to the classic Keynesian investing beauty contest, where investors do not try to determine the winner based on some investment criteria, but based on what he believes other investors think will be the winner.
Our base-case scenario calls see a period of "revenge consumption" euphoria, followed by further signs of stagnant recovery. Investors will also have to face the risk of a second wave of infection in the fall, which will result in either another partial or full lockdown that slows economic growth and raises financial stress. Even if the authorities opt to forego a lockdown for political reasons, there may be a sufficient number of individuals who choose to stay home for precautionary reasons, which will have the same effect as a partial lockdown.
Professional investors who want to manage business risk in this environment of heightened volatility can consider our series on this subject:
How Much Business Risk Is Hiding in Your Portfolio?
Set the Right Benchmark to Beat the Competition
Managing Stock Specific Risk in Your Portfolio
For copies, please contact Ed Pennock at [email protected] or at +1 (647) 287-6800.
In this Smartkarma Webinar, Thomas Schroeder will provide his technical outlook for markets. After the recent melt-up, markets are up against renewed concerns from: 
A second wave of COVID-19 cases in the US
Unexpected lockdowns in Beijing
Diminished short-base after extensive covering
Oversold levels on the Dollar Index (DXY) (DXY CURNCY), as well as,
An acceleration in new capital raising
The webinar will be held on 17 June 2020 at 1700hrs Singapore/Hong Kong time.
---
---
Thomas Schroeder starting using charts and trading in the FX markets in 1989 and entered the equities arena in 1992 with Deutsche Bank as a fundamental analyst but found himself relying more on inter-market cycles and charts. In 1994, he become the Asian head of Technical Research for UBS Securities in Hong Kong and in 1997 was charged with heading the Global Technical Research team for SG Securities. In July of 2003, Chart Partners Group Limited was formed which provides clients with timely and accurate progressive trading strategies within a truly global context.
You are currently reading Executive Summaries of Smartkarma Insights.
Want to read on? Explore our tailored Smartkarma Solutions.