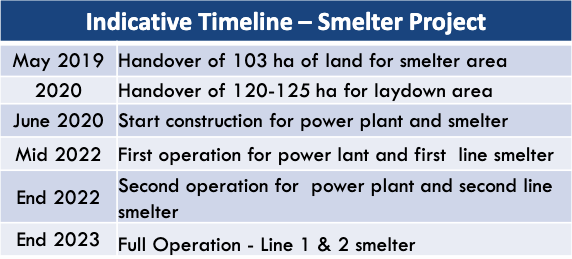 In this briefing:
---
A meeting with AKR Corporindo (AKRA IJ) management in Jakarta last week, confirmed that despite last year's issues over subsidised fuel pricing, the company is set up for strong growth going forward driven by a number of factors. These include strong growth in non-subsidized fuel distribution, and a marked pick-up in land sales at its JIIPE Surabaya Industrial estate, as well as longer-term a number of JV projects with BP PLC (BP/ LN) including retail petroleum distribution and aviation fuel distribution to begin with, and it is exploring the possibility of LNG storage and distribution. AKR Corporindo (AKRA IJ) should be a defensive stock in this environment and the recent correction is a buying opportunity.
The company ceased to distribute subsidized diesel in May 2019 due to a change in the pricing formula which made it uneconomic to do so. The change in pricing was to be applied retrospectively, which the company is challenging. The company is making a provision for the charge for this in 2019, on the advice of its auditors. AKR Corporindo (AKRA IJ) will resume subsidized fuel distribution this year as the new Minister reversed the pricing change, making it more economical to cover costs and assure a decent margin. 
AKR Corporindo (AKRA IJ) has been growing sales of non-subsidized fuel, which generates twice the margin as that of subsidized fuel, which is going some way to offset the decline in Subsidized fuel. Despite the potential charge, management has confirmed that FY19 Net profit will not be lower than the recurrent profit in 2018 of IDR712bn, which should be taken positively.
The company is moving forward with Freeport Mcmoran (FCX US) 's new smelter at the company's JIIPE industrial estate (100 ha plot), which will bring with it leasing revenues, revenues from utilities, and demand for land plots from supporting industries. AKR Corporindo (AKRA IJ) secured a deal with the local government to supply power directly to its customers on its estate and will build a 515MW power plant there. The pipeline in demand at JIIPE could see a further boost with a Taiwanese steelmaker conducting a feasibility study for a 200 ha plot in 2020. 
AKR Corporindo (AKRA IJ) is trading at close to a 3-year low and its valuations are also approaching very attractive levels, with the stock trading on 11.5x FY20E PER plus it pays a good dividend, with an FY20E yield of 3.5%. 
E-Star Commercial Management (ESCM HK) is looking to raise US$150m in its upcoming Hong Kong IPO.
ESCM is a commercial operational service provider focused on the Greater Bay Area (mostly in Shenzhen) although it does have a national presence. The company is ranked first and third in terms of the number of shopping centers and GFA in operation in Shenzhen, respectively.
The company has good long-term commercial properties under management (average of about 15 years). About half of the contracted GFA that has yet to commence operation and fully contribute to revenue. It will start between 2020 to 2023 which will drive revenue growth
In this report, we provide a pair trade idea between Korean Air Lines (003490 KS) and Hanjin Kal Corp (180640 KS). Our strategy will be to go long Korean Air Lines and to go short on Hanjin Kal. Hanjin Kal Corp's stock price is near its one-year highs and Korean Air Lines' stock price is near its one-year lows. 
Our base case valuation of the company is 1.8 trillion won 30,476 won, which is 53% below the current share price. Some of the investors may be asking this question, "How can Hanjin Kal shares rise so much higher than its intrinsic value?" At this point, there are three major scenarios:
First, Hanjin Kal Corp shares may be valued correctly while Korean Air, Jin Air, and other Hanjin affiliates may be vastly underpriced and need to catch up to Hanjin Kal Corp.
Second, Hanjin Kal Corp shares may be overvalued right now while Korean Air, Jin Air, and other Hanjin affiliates may be fairly priced. (Our view)
Third, it could be a combination of the first two scenarios.
The key wildcards in this M&A fight have been Delta Air Lines and the Bando Group as both companies have been increasing their stakes of Hanjin Kal in the past several weeks. In the midst of this M&A fight, the COVID-19 has become a serious issue and likely to get worse in the coming weeks. Therefore, in the midst of a severe further downturn in the overall economy, especially in the construction sector (especially in the southeastern part of Korea), can the Bando Group continue to remain such a strong ally to KCGI and Cho Hyun-ah? This remains very shaky, in our view. 
Guoxuan High-Tech Co Ltd (002074 CH) is lithium battery producers for electric commercial and passenger vehicles. The company has a market cap of US$4B and is listed in Shenzhen stock exchange. The stock has rallied in the last month on the news that Volkswagen is in discussion to invest 20% stake in the company.
The company has been burning cash and leveraging its balance sheet. The recent rally does not appear to be grounded in fundamentals but appears to have been primarily driven in anticipation of funding to deleverage the balance sheet. We believe that in the absence of a turnaround strategy the company will face headwinds if the negotiations with Volkswagen fail. In such situation we expect the stocks to revert back to its long-term mean valuations, a drop of 50% from current levels.
You are currently reading Executive Summaries of Smartkarma Insights.
Want to read on? Explore our tailored Smartkarma Solutions.