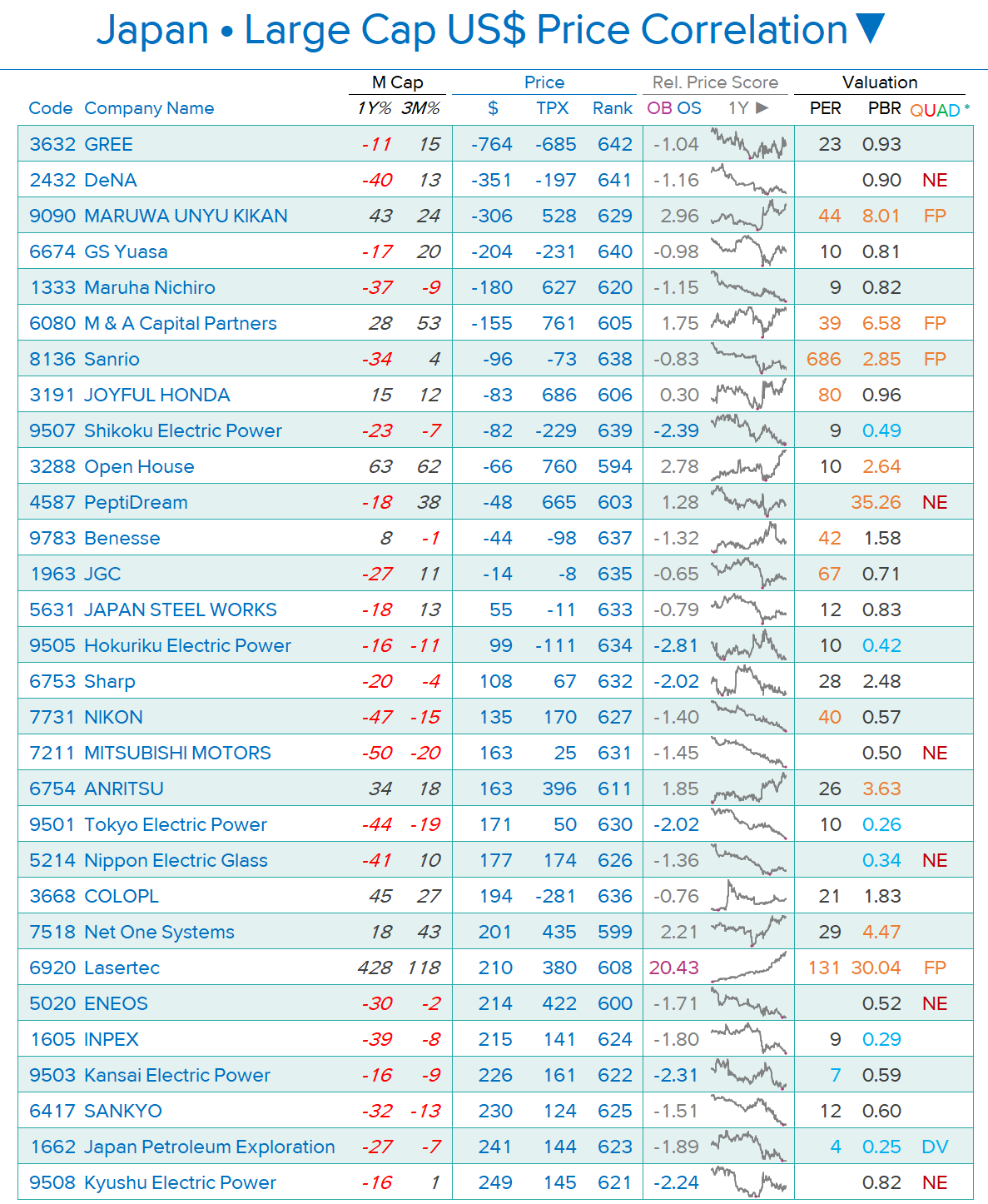 In this briefing:
---
WHAT CURRENCY RISK? – It seems rather old-fashioned to raise the topic of currency risk in relation to potential stressors on Japanese listed companies. Compared to the thirty-five years to 2015, the last five years have been a period of benign calm in the USD/JPY exchange rate, aided and abetted by the action of central banks to eliminate interest rates and the functioning of the bond markets. Most observers expect this currency stability regime to continue and COVID-19 has so far only seen one short 'blip' to ¥102.36 on 9th March.
¥ BELOW 100 –  If we isolate only the 1,484 days in the last forty years when Yen has traded above ¥100, the average TOPIX index is 975. The three Yen 'peaks' we have highlighted above in 1995, 2011, and 2016 proved excellent entry points. The subsequent trough-to-peak performance was 43%, 139%, and 60%, respectively. The COVID-19-induced trough-to-peak is, so far, just 31%.
KEY DRIVER – Nevertheless, for an increasingly-global Japan, the USDJPY exchange rate remains a key driver of earnings. With a lag of six months, the peaks and troughs of the USDJPY exchange rate have coincided with turning points in the earnings cycle as measured by our Results & Revision Score. The six-month lag suggests that ignoring the impact of COVID-19, the exchange rate is mildly supportive of earnings momentum for the balance of 2020.
---
• CORRELATION ANALYSIS •
CORRELATIONS – Our analysis of the currency risk of specific companies will be in two parts. The first and simplest is to examine the long-term positive and negative correlations of each listed larger-capitalisation company against the US dollar and Euro for the split-adjusted share price. This analysis will yield some surprising results, including the positive US Dollar correlation of Nippon Express (9062 JP), while Nikon (7731 JP) is negatively correlated. 
---
• THE FOREIGN CURRENCY TRANSLATION ADJUSTMENT •
FCTA – The second part is perhaps more abstruse, however but is a more accurate estimation of the actual currency risk embedded in the business model.  The Foreign Currency Translation Adjustment (FCTA) is part of Other Comprehensive Income and has been disclosed in Japanese GAAP-based balance sheets and income statements since 2001 and 2011, respectively to measure the extent of each company's global business and the embedded currency risk. The correlation of the aggregate FCTA for all non-financial companies is, as would be expected, reasonably tight. As these amounts are directly deducted from Net Assets for companies adopting JGAAP and from Shareholders' Equity for those companies reporting under SEC or IFRS standards, the impact on valuations cannot be ignored. For example, the decline in the US dollar from ¥123 to ¥101 in 2016 resulted in a six-quarter ¥53 trillion negative FCTA adjustment, 65% of the gap between Net Income and CITC over that period.
CITC & NET INCOME – Comprehensive Income adds a series of adjustments to Net Income to reflect as-yet-unrealised changes from currency translations, securities valuation differences, pensions, and deferred hedges. These adjustments are subsequently 'recycled' as and when realisations occur. In aggregate over the last seven years, Comprehensive Income has exceeded Net Income by a cumulative ¥56 trillion or 7%. However, as Comprehensive Income is inherently a more volatile data series, it is eschewed or overlooked by most analysts despite the direct impact on Shareholders' Equity. Nevertheless, Comprehensive Income illustrates that, as a result of increased globalisation and investments in marketable securities, the underlying earnings of Japanese corporates have become riskier than is implied by Net Income. In 2017, the FCTA resulted in an aggregate loss for Comprehensive Income to Common (CITC) and a corresponding decline in Shareholders' Equity for non-financial Japanese companies.  In the last two reported quarters, the 'gap' between Net Income and CITC has begun to widen again as both Valuation Differences and the FCTA have turned negative.
FCTA BY SECTOR – Two-thirds of the total absolute FCTA over the last seven years comes from seven Sectors – Autos, Wholesale, Electrical Equipment, Technology Hardware, Machinery, Other Consumer Products and Telecommunications (Softbank Group). The least-exposed Sectors are Services, IT & Internet, Multi-Industry and Restaurants.
---
In the DETAIL section below, we shall look at the Accumulated Balance Sheet Foreign Currency Adjustments where Eisai Co Ltd (4523 JP) and Dic Corp (4631 JP) have the most significant amounts of positive and negative Accumulated FCTA's relative to Equity, respectively.
This Part 6 concludes our Stress Test series. However, forthcoming Insights will look at the Valuation Differences component of Other Comprehensive Income and those companies with the most substantial CITC/Net Income 'gaps'.
Softbank Group (9984 JP) has witnessed a sharp rise from our recent 4,400 long entry and nearing the ideal 6,600 target representing the top end of the intermediate expanding wedge range. We made a bull call near lower wedge support at 2,800.
Recent breakout point at 5,900 will act as pivot support that will induce a reaction back upward.
RSI shows synergy with dual tops in this zone to mark key cycle tops which fits with a top near 6,600. RSI is also forming a rising wedge that has a better than 70% probability of breaking down amid bear divergence.
Macro pivots are 6,800 and 4,900 as the expanding wedge defines a clear range (6,800 and 2,500).
SMALL CHANGE – With over half of the companies with February, May, August and November year-ends having reported, the gap between the performance of larger and smaller capitalisation companies is widening again – as was the case prior to the March COVID 'crash'. The former are benefiting from a relatively more robust earnings momentum and the willingness of shareholders to look through to 2022. For the latter, their mostly-retail investor base is focused more on the prolongation of current operating losses despite, in many cases, ample Net Financial Assets.  42% of companies reporting on Friday had net losses for the last three months on an average decline in revenues of 14%. For the next reporting 'cohort' with one less 'normal' month, these statistics will be worse.
DAILY STATS
---
Results Score: 19 Positive / 3 Neutral / 61 Negative
Average Results Score Change: -4.4
Average % Change in Revenue: -14.2% Quarter YoY / -0.9% Rolling TTM YoY
Average Operating Profit Margin Change: -0.7ppt
Percentage Making Quarterly Losses: 42%
---
31 Annual • 13 Interim Forecasts/Revisions
Annual Forecast/Revision Score: 13 Positive / 4 Neutral / 14 Negative
Interim Forecast/Revision Score Change: 5 Positive / 1 Neutral / 7 Negative
Average Forecast/Revision Score Change: -3.9
A review of U.S. and global markets reveals that market leadership has narrowed to NASDAQ and Chinese stocks. If this is the start of a new bull, or a continuation of the old bull, can it rest on the narrow leadership of a handful of NASDAQ stocks and the Chinese market?
Is this just a double bubble, and does that imply double trouble ahead?
We are not sure. We are torn between Bob Farrell's Rule No. 4:
Exponential rapidly rising or falling markets usually go further than you think, but they do not correct by going sideways.
And Rule No. 7.
Markets are strongest when they are broad and weakest when they narrow to a handful of blue-chip names.
Investors need to be aware of the tension between Rule No. 4, which raises the possibility of a stock bubble, and the risks posed by the narrow leadership warned by Rule No. 7. Tail-risk is high in both directions. In this environment, it is worthwhile to return to basics and re-visit investment objectives and risk tolerances in order to balance risk and reward. There are no perfect answers and each will be different.
Regardless of what direction the market takes, investors can count on a climate of high volatility in the near future.
* Poor Operating Result:Aeon Financial Service (8570.JP) [AFS] reported a FY 1Q20 operating loss of JPY 0.8 bn, and a net loss of JPY 1.1 bn. The poor result was driven by JPY 30.7 bn in net loss provisions, as credit quality across AFS deteriorated well beyond expectations resultant of the global slowdown attributed to COVID-19;
* ASEAN Risk: Aeon Thana Sinsap (ATS.TB) [ATS], AFS' 54.3% owned subsidiary) reported a 46% YOY decline results to THB 530 mn, as ATS temporarily closed 70 branches for about six weeks through mid-May due to COVID-19, and offered credit assistance to customers in line with the Bank of Thailand's relief measures. Aeon Credit Service Berhad (ACSM.HK) reported results of MYR 26.3 mn  – declining 69% YOY in 1Q to MYR 26.3 mn. The Malaysian government's Movement Control Order (MCO) to prevent the spread of COVID-19 had a negative impact on local business activities,
*Dividend Cut: FY 2/21 DPS guidance of JPY 23 is a sharp reduction in DPS – but in line with the projected profit decline and works out to a dividend payout ratio of 50%-100%. This was a negative surprise as AFS had made a convincing argument for dividend stability at the FY 2/20 earnings briefing. If a 2nd wave of COVID-19 occurs, we'd expect the dividend to decline to zero.  
You are currently reading Executive Summaries of Smartkarma Insights.
Want to read on? Explore our tailored Smartkarma Solutions.