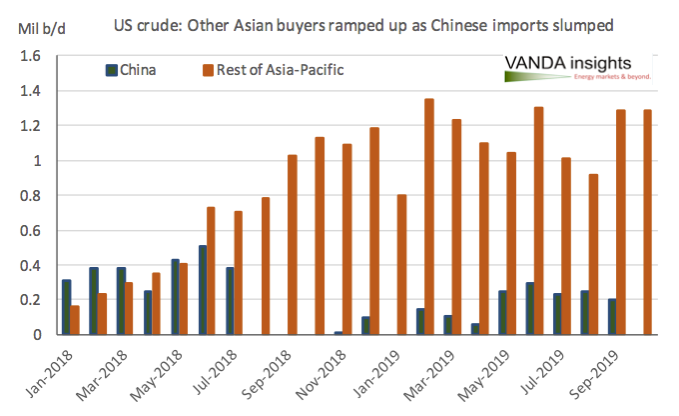 In this briefing:
---
The US and China signed their phase-one trade deal on January 15 but it barely boosted crude beyond a mild bump. Our readers will not have been surprised – because this was exactly the anticipation we had been conveying for some time.
It remains to be seen if the deal – which leaves majority of US tariffs on Chinese goods intact – will move the needle on global economic momentum. As for the oil market, it will need time to decide if the prospects for demand growth need recalibrating. 
In the absence of a "cheer premium" from the trade deal and a firm retreat of the fear premium that the escalating US-Iran tensions had introduced at the start of this month, crude prices are now in a holding pattern.
In the meantime, China's commitment to boost purchases of US energy commodities may mean increased competition among Asian countries that had stepped up their imports of US crude over the past 18 to 24 months.
Plus: The danger of long-term destabilisation that has reared its head in at least two major oil producers amid an uneasy calm in the Middle East. 
We initiate coverage of SPRC with a BUY rating and a 2020E target price of Bt11.60, derived from 1.3xPBV'20E, which represents a 13% premium to the Thailand energy average of 1.15x.
The story:
Superior GRM as a result of partnership with Chevron
To benefit from several turnaround projects including expansion
IMO regulation to support refinery margin in 2020E
Risks:
Raw material price fluctuation
Foreign currency exchange rate fluctuation
Unplanned shutdown of refinery
You are currently reading Executive Summaries of Smartkarma Insights.
Want to read on? Explore our tailored Smartkarma Solutions.